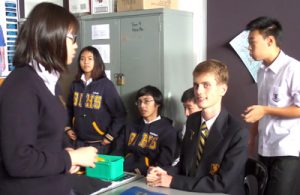 The Leo Club of Glenunga International High School was established in 2003 under the sponsorship of the Lions Club of Glenside. A Lions Club Advisor and a School Co-Advisor offer leadership, support and motivation to the members.
Membership over the past 14 years has consistently been between 30-35 Leos.
The club meets on a weekly basis, during lunchtime and divides into 4 groups.
These are:
Promotions
Community Service
Events/Fundraising
Membership
Under the leadership of the President the groups are given set tasks and report their findings to the meeting.
The Club is working on implementing an outdoor recycling system for the school.
Money is raised through a variety of school fund-raisers including a movie night.
Community service events include working in a Primary School and visiting an Aged Care facility.
Since 1985 Glenside Lions Club has offered a $1500 yearly Scholarship to Year 11 and 12 students to help support their educational needs. Although open to all students many Leo Club members have been scholarship recipients. From 2016 there will be two scholarships of $2000 to two Year 11 and two Year 12 students.
John Hillman (Leo Club Advisor)
Working with the Glenside 
Lions Club
Students have been very well supported by the Club through the provision of an annual senior student scholarship and mentor support in the running of the Leo Club. Such things as meeting protocol, business links for fundraising and links to Burnside Council and other community organisations have been provided.
Other Activities
Supporting the Lions Club of Glenside at their Annual Art Show,
Participation in the Lions Youth of the Year quest,
Participation in Lions International Peace Poster Competition,
Participation in Lions Youth Exchange,
Leo of the Year and at Lions District Conventions.
The success of the Leo Club is very much determined by the support provided by the Lions Club of Glenside.